Discussion Starter
·
#1
·
I'm going to get my shop wired soon and I'm trying to figure out exactly how everything will be done. I will have a panel with breakers controlling a few circuits. On one particular circuit, I have something I am not sure about.
1.) I have the panel.
2.) I have a single pole switch
3.) I have a light fixture overhead
4. ) I have one lonesome receptacle
To avoid having to run the receptacle on it's own breaker and a dedicated circuit, I would like to have it tied in with the light circuit. Problem is, I can't figure out how to do it.
I know this would be very easy to do if the source was coming from the receptacle side, but it is coming from the switch side.
I drew up this diagram to help explain what I am talking about-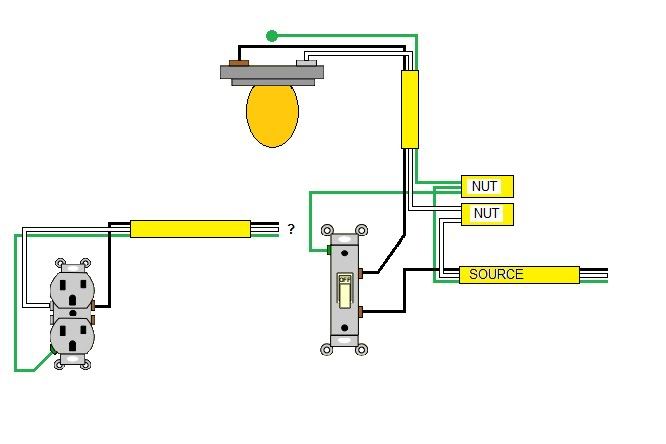 I know I could simply run wiring all the way to the receptacle, and then back to the switch and light, but I'm trying to avoid wasting a bunch of wire if possible. The receptacle is way over on the end of the wall, so to do this would require about three times the wire I'll have to use if the way I'm thinking is possible. I'll have it done that way if that is the only option, but this is my idea:
Run wire from panel to switch. Branch off from the switch to the receptacle, as well as branch off from the switch to the light. The switch controls the light and the receptacle or the receptacle can remain hot at all times..doesn't really matter as long as the switch controls the light.
Is this possible or am I just wishful thinking?