Discussion Starter
·
#1
·
Hi-
Just to give a little background.
I am a 31 year old DIYer. I once worked a summer as a student painter a decade ago, and have also painted many, many rooms in the last 2 homes that I have owned. My current home I have lived in for 2 years and I'm ready to finally paint the exterior. I hate BEHR paint, and only use SW for my projects. Something about the buttery texture as it flows from the brush makes me very happy :thumbup:
Everything the previous owner did was half-assed. Everything!
When he painted the exterior aluminum siding he used a sprayer and only did one thin coat. He painted white and you can still easily see the dark green color of the original siding. AND HE OVERSPRAYED EVERYWHERE!
On the soffit and under the rear porch roof, he used a brush and very very sloppily "painted". Again, thin paint and brush strokes.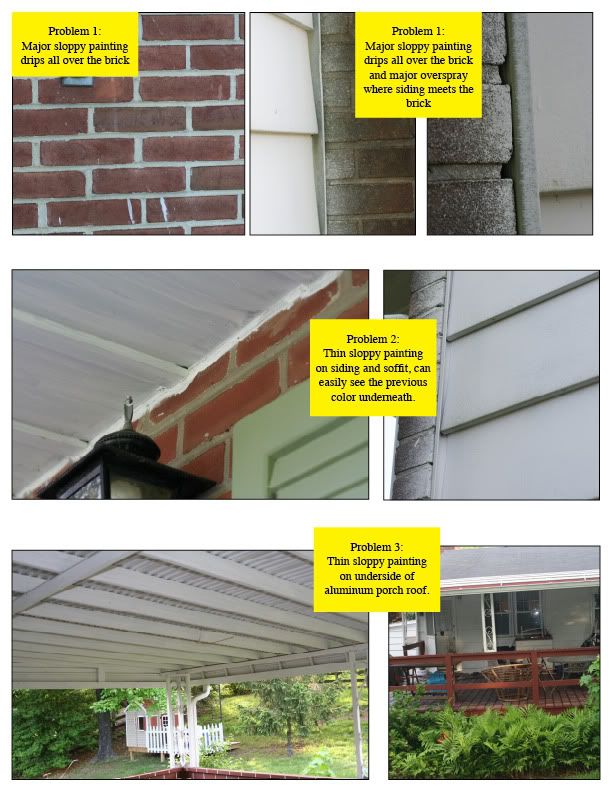 So onto my questions.
1. How can I clean off the paint on the brock front of the house?
I really do not want to paint the brick, and would prefer to clean the surface good. Should I try TSP through a power washer with a scrub brush attachment, or will something like KRUD KUTTER power wash detergent work? Once clean, then just use a paint stripper like Citristrip?
I have never used TSP before.
2. Because of the detail and texture of the soffit and porch roof, I would like to use a sprayer. I have never used one before. I was at a local auction house a few weeks ago and bought a brand new, never used Wagner PaintCrew 660 fro $40. I know that it is not a top of the line sprayer, but will it work well for this project? If so, of course I would also like to use it for the siding.
I have already purchased the paint. Sherwin Williams Durations, tan color.
SW said that the paint is self priming, and will not require any primer. Is this correct even for aluminum siding? The previous thin layer of paint appears to have adhered well to the siding.
And yes, the guy did paint the deck brick red and then paint "mortar lines" on the wood....