Discussion Starter
·
#1
·
Alright, I made a post here a while back about tearing out my deck (built by previous owner) and starting from the ledger out again. This time around I plan to build a gable extension over the front of the deck from the existing roof line shown here: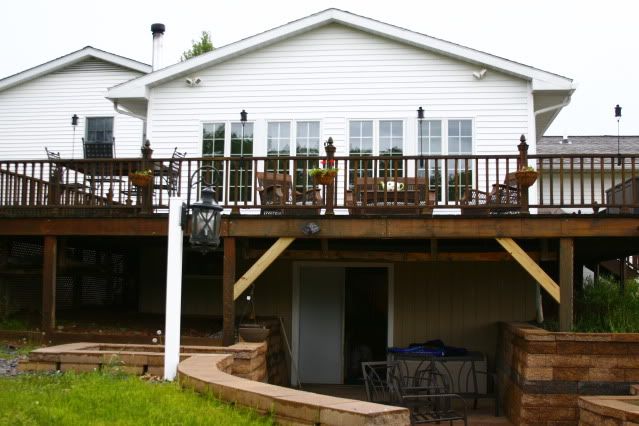 That patio span is the problem, however. Seeing as it's a touch over 14', I came up with a plan to span this distance with the proper beam creation. In fact, I have two options, I suppose. Let me run them by you:
Option 1:
This shows where the gable extension will be (this is looking from the top view), where the 6x6 posts will be, their respective spans, and how I would go about doing this. With this plan, I would be giving myself a little more wiggle room with the beam span since my joist span is only 6' by placing an intermediate beam in between the ledger and the outside beam. This method would have the roof support posts extending through the deck from supporting the beam. The problem with this approach? The only way to do this, would be by sandwiching the beams on the outside and inside edges of the post (a no-no according to current codes). This is the only feasible way of getting the 6x6 to support the beam, and extend up through to support the roof. I can't use the same post if I rest the beam on top.
The second option: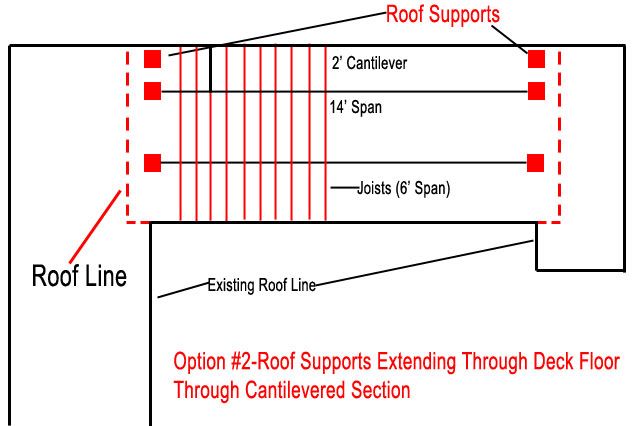 This option is similar to the first, but this time, I would be able to use a true 3 2x12 SYP beam to span the patio, have the beam sitting on top of the posts, and then dig separate footer holes in front 2' on both sides, and extend the roof supports up through the cantilevered section of the deck. Down side to this? Two extra posts, holes, and various material (tubes, concrete, gravel, Simpson connectors, etc). Thoughts?