Discussion Starter
·
#1
·
Hi,
I live in Portland OR and I'm about to pull the trigger on the order and add a 3 ton Heat Pump to my existing Trane XV90 80,000 BTU furnace. I'm an Electrical Engineer for my day job and I love DIY projects.
I was looking at Goodman, Rheem, Rudd, and Trane. Since I can get such a good deal on Goodman, and I've only heard good things about them, I'm going that route. Sounds like Goodman makes stuff that goes into new houses and they are more value oriented, but with such a good warranty seems like I can't go wrong. Plus it seems like Goodman is more availble to the DIY'er. I've decided to go with the 14 SEER unit, the SSZ140361A. This is only a few hundred more then the 13 SEER unit and seems like they put the higher quality compressor, and they offer the lifetime warranty on it, etc. Also since I'll be heating with it, seems like the extra money is worth it..
Here is the parts list I've come up with to this point. I'm going to get my stuff from
www.acwholesalers.com
and
www.pexsupply.com
. I'll also need wiring and other various items, but I plan on Home Depot for those..
Since tables don't seem to work very well I'll put a link here to my working spreadsheet:
http://www.skylab.org/~chugga/forums/3-ton%20Goodman%2014SEER%20Hvac%20Install%20DIY.xls
And a screenshot:
Here is my current downflow furance: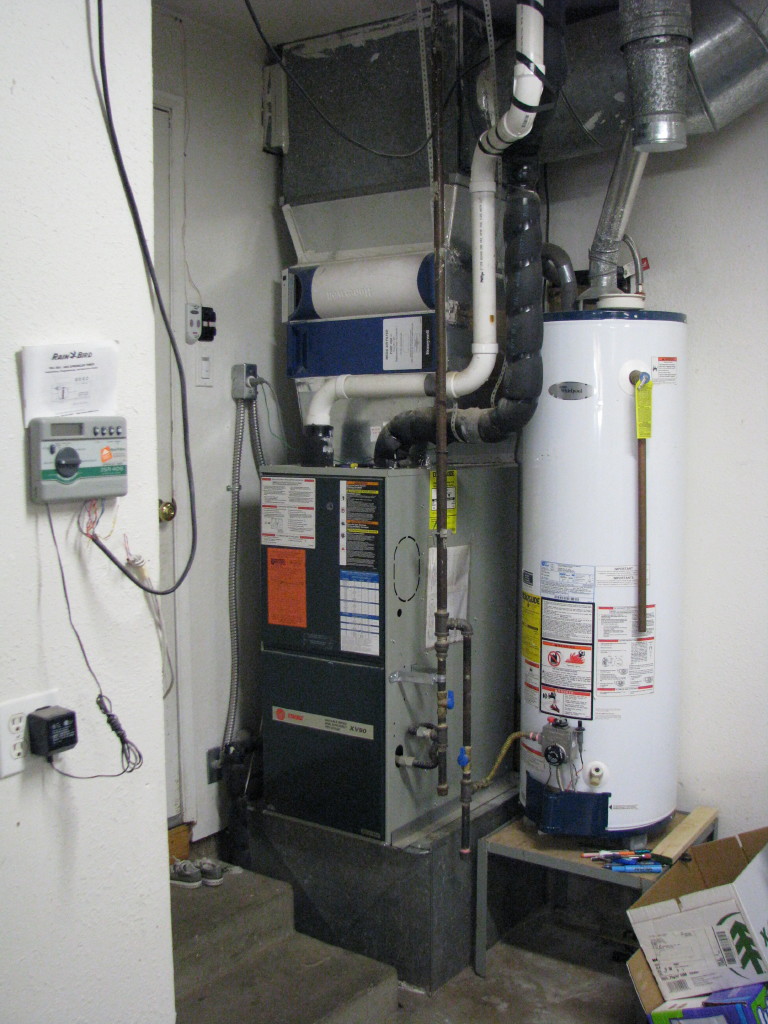 Basically the bottom base plenum is rusting out. I'm going to go to a local fabricator for a new base can (and all the duct re-work) and then I have to redo the cold air return too. I may also re-do the box that feeds 3 12" ducts under the house. I have two filters, one media and one electric (The electric filter doesn't do any good if you don't clean it and stuff still falls into the air handler even though it's constanly on. My variable speed fan takes the load just fine.) I'm also going to use a smaller base can and bring up a rectangular duct from the bottom to go up to the loft because the 400sq-ft addition stole from a 12" line that already fed 3 other rooms.
My cased coil is going to be 22" tall so everything goes up quite a bit. (Goodman use to spec 26" now it's 22" I'm counting on that and verfied that's not a typo) 107" total from floor to celing. 17.5"W 40"H 26" Deep Furnace. I'll post more on the design later once I scan it in.
If you thing I'm getting a good deal, or I'm missing somthing please feel free to comment. I plan to use this thread to post my progress. I'm about to start tearing it all down and pulling the rusted base can and starting on spec'ing the duct work.
Thanks for any advice!
-Jeff