Discussion Starter
•
#1
•
Hi,
New to this forum, and quite inexperienced, but willing to learn and take on big projects. Forgive me if I use the wrong terminology.
I bought a post and beam house (built 1985) that has 2x6 tongue and groove softwood flooring throughout. In the kitchen and bathrooms, it's covered with 1/4" plywood underlayment and old sheet vinyl.
I'm hoping I could get some advice to plan for the future. There is no subfloor. The T&G serves as the ceiling as well as the floor. I'm not a huge fan. The surface wears easily, and the boards have large spaces in between from movement. I suppose I could refinish them, but that won't solve the problem with gaps and movement. They just collect a lot of debris and I worry about my dog running around and getting her claws stuck in the cracks. I would like to be able to install hardwood in the future, and maybe tile or something in the bathrooms.
If I do a plywood subfloor over the T&G, will the hardwood stay in place and not get all gappy over time? Will that stiffen the floor enough to do tile in the bathroom?
There is a considerable amount of flex in the floor, due to the fact that the joists are 48" apart. I have easy access to the 1st floor beams and joists from the basement, so I could add some bracing to stiffen it up. Any suggestions on how to do that?
Here are pictures of the floor surface and the framing. The sizes on there are the actual measurements.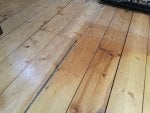 Thanks!!
Marc