This is a story....the names have been changed to protect the incompetent.
Well, actually...a lot of you have asked me to post a progress thread on the 2-story addition to my house.
A little back ground first. This is our house. A very very small house with two cats in the yard, and 3 kids in the house...along
with me and the wife. 1026 Sq feet....3 bedrooms and one bathroom. Kind of rough with just one bathroom. Did I mention that we have only one bathroom?
We bought our house in 2000 just before the market took off. Along the way we have made numerous improvements with the intention of increasing the size when the time was right. 2 Years ago I completed the garage. Our old detached garage was 18x20 and filled up with water every time it rained. The new one is still detached but is 20x25....2-story.....and dry. We did it first because we knew it would be integral to helping us do the 2-story addition to the house (at least that is the story I gave my wife to let me build the garage).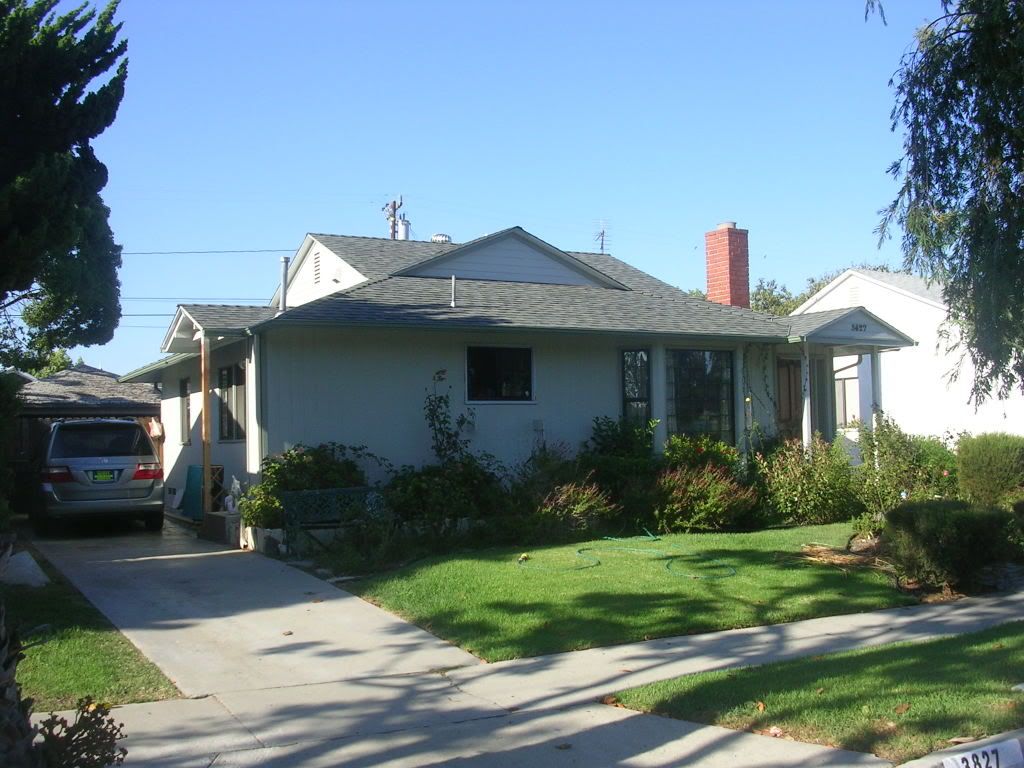 And here is what the garage looks like....all 1040 sq feet worth....more than the current house...
If you want to see more details on the garage, a link to the build is in my signature.
Now, before I go on allow me to stress that this thread is not about be bragging about my building skills or lack thereof. It is about sharing what I have learned as a DIY'er…
While I still consider myself to be a 'newbie' on this forum, I have noticed a common trend over the past few months. Some of the questions are pretty dumb. So dumb that I hope the poster is not a licensed driver. But a good majority are valid questions….though I have issues with how some are answered. One of the things that 'irritates' me is how quick some responders are to say "Get a Licensed" xyz…..In some cases I agree…but in a lot of cases, I don't. It is about par to saying, "Hey, my light does not turn on, what should I check first." And the responder saying "You need a licensed engineer to solve the problem."
With that rant over…..I would like to point out that my wife and I are doing almost ALL the work ourselves. There are a few exceptions. I did hire a professional architect to do my drawings. I did my own drawings for the garage…but did hire an engineer to spec the structural….(those cantilevered floors will do it every time).
The guy I hired was great. He swung a hammer before coming an architect….so he knows what he is doing. He took my initial AutoCad design…tweaked it to our liking and then added the needed structural items. Bottom line, I was way in over my head thinking I could do my own drawings.
So…this is what he/we came up with. The 1 story structure at the front is the existing house with the 2-story portion the part I am adding.
And this is what the rear should look like. Not real obvious at first…but the 2-story cantilevers over the 1st floor by 3' on two walls.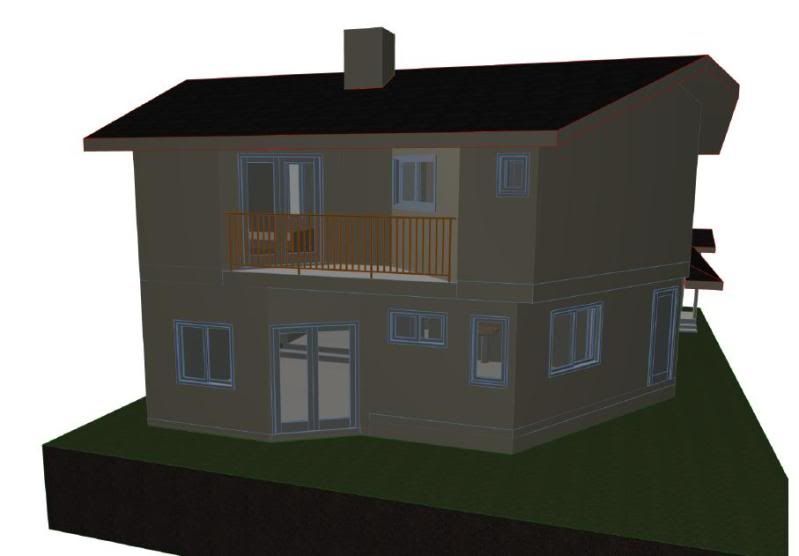 For those wondering about cost….I can't divulge the cost of the architect…..his wife and my wife are friends….I got the 'good guy' discount….but to be honest…I think his services would have been worth a good $8k….he even walked the drawings through the permit office.
Permits….around $2k
Site prep….not much….except for a big slab of concrete across the back of my house….
Using a sledge hammer, pry bar and wheel barrel, I removed this in one day. Made for a good workout.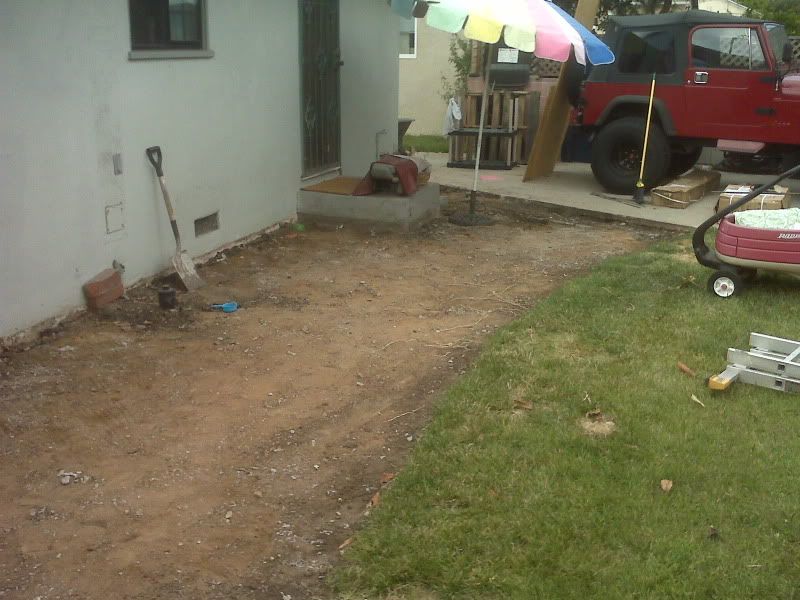 Put it all in one of these. $365….included drop off and pickup.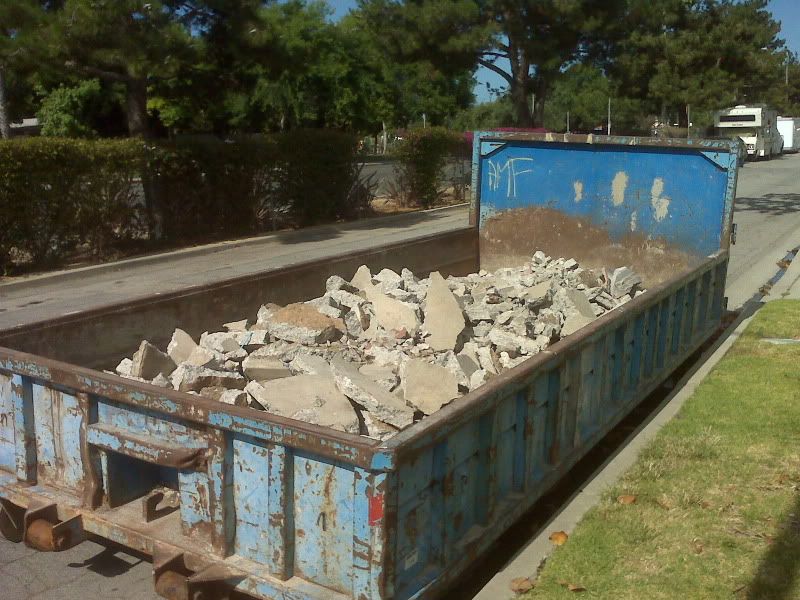 Once that was out of the way we could start on the foundation. When I did the garage, I hired a contractor to do the foundation. I had no experience in it so I figured I should farm it out…..and like so many other people, got hosed. But I learned a lot. Like, make my own measurements…and hire the same day workers he does.
Arulio does not speak any English, but he is in the country legally and does great work. He dug out the foundation by hand with only 1 helper. Took him about 2 weeks. In retrospect, I should have rented a bobcat and dug out the majority in one day. It might have saved me about $500.
All told, I have about $2500 in labor, $1500 in hardware (anchor bolts, forms and rebar) and $2000 in concrete. The concrete was the only thing I estimated right.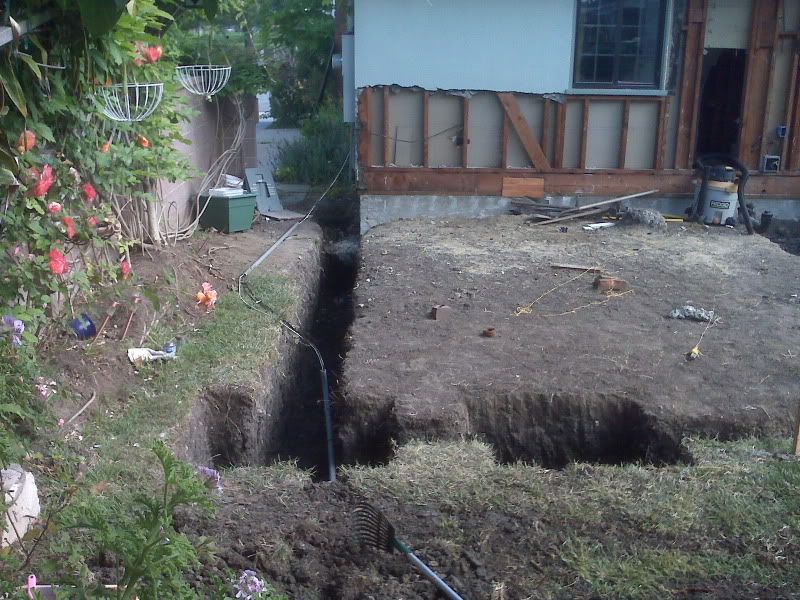 Oh, don't forget the $1100 for 3 of these…..a lot of dirt came out of that ground….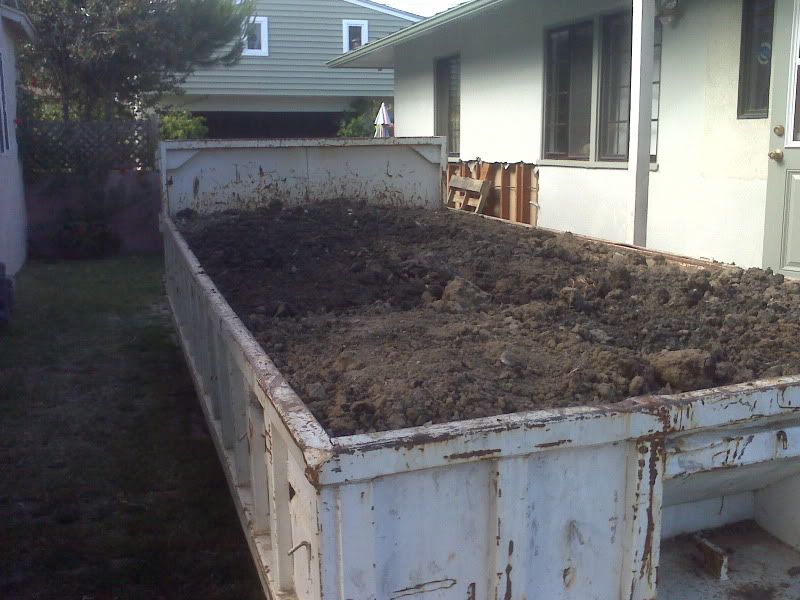 ……and still had some left over……..