Discussion Starter
·
#1
·
I found some cloth romex inside my 1940s house. I have no idea how much of it is there, and I am in the process of slowly opening up every junction box and fixing the wiring as I go.
The property had an addition in 1992, and a kitchen remodel in 2008. So at least half of the wiring is newer. When I removed the electrical panel cover and looked at the wiring inside, I do not see any clothed romex there, so at some point there had some rewiring and yet so far (I am about 60% through) I found parts of 3 circuits that had this old wiring.
This is a piece of that stuff.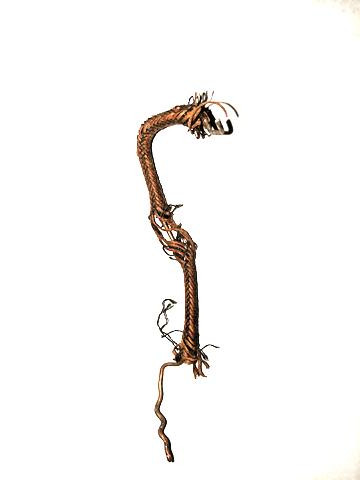 I will need to replace/abandon/rewire these somehow. The bad news is one of those circuits is on many receptacles on the inside of an exterior wall so it will be a real pain.
I am looking for a temporary solution to keep those receptacles in service until I can change them all out.
The bad news is once I opened these boxes, if I manipulate these old wiring by pulling, tucking the cloth crumbles. There is also no ground conductor.
The wire contains two layers. There are two conductors. Each conductor is wrapped in cloth. I believe at one point it was a white cloth and a dark cloth, but by now there look about the same. Then there is another layer of cloth over both which seems to be coated in some sort of tar?
If I undo the clamps in the back of the metal box, I was able to tease out another 2-3 inches of the wiring into the box, and that wiring seems to be in much shape then the portion inside the box.
So now I have this wire inside the box, with the last 4 inches of it as bare copper because the old insulation has disintegrated. How can I repair it in the mean time?
I am thinking of using some skinny heat shrink tubingnover the bare copper up to where I found intact insulation. Then a larger tubing over the existing insulation, while overlapping the two.
Are the heat shrink tubing in hardware stores adequate for this task if it's rated to 125C? I have used heat shrink tubing before to repair a nick over insulated conductor, but I have never use heat shrink tubing over several inches of bare copper conductors. Can it be used in this manner until I rewire which I can't do now with this COVID-19 thing hanging over our heads.
Would tape be better? Would liquid tape be better? What are marine grade heat shrink tubings? Is it a better product then regular HS tubings?