Discussion Starter
·
#1
·
I'm seriously considering putting in an offer on an 1886 Eastlake victorian that was remodeled a few times in the past, starting with a second floor added in 1902. I've attached a map I drew of the first floor (from memory, so nothing is to scale - and the things that look like windows are doors
. I've also attached a couple photos of exterior so you can see where the roof lines, pipes, and original part of house are...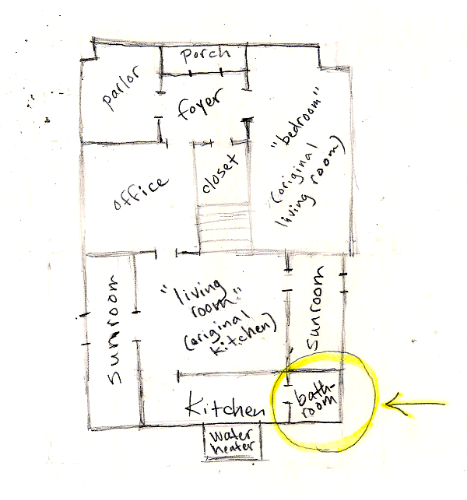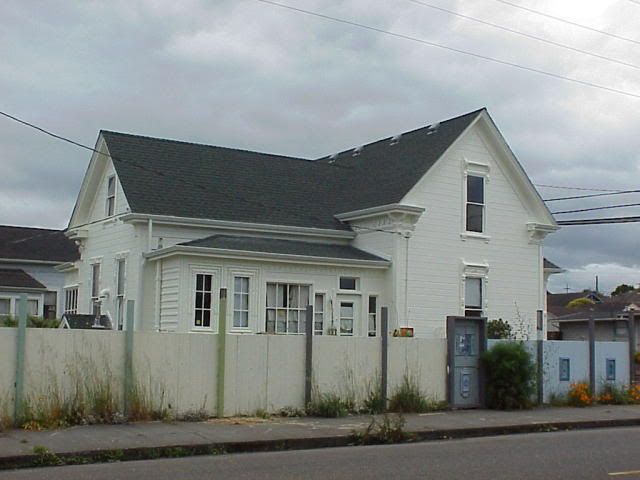 Right now the house has a tiny, narrow kitchen, and an outhouse-sized bathroom off of that. This is the only bathroom in the house, and of course it just has one of those standup showers you can barely move in.
According to historical society, they believe there was previously a larger bathroom in part of what is now a sunroom (there are two sunroom additions). So here's my dilemma:
Can/should the bathroom wall be removed where the shower currently is, so the current bathroom expands into the sun room, making room for a tub? I'd remove the current shower and install a tub where that is, I guess...? I would not be doing this work myself but I'm on a budget.
OR would it be easier/less expensive/make more sense if I added a second bathroom upstairs? Right now there is an unfinished room above the kitchen and living room, on the second floor. The water heater and kitchen sink are right below it, conveniently (see map and exterior photo of back). It looks like the previous owner had planned to add a bathroom in this room because they sketched a toilet placement on the floor, and the floor has been elevated (maybe to let pipes run under it? - see picture below). It's mostly the cost of the plumbing and any necessary ventilation that I'm interested in. There is already electricity in this room. The fixtures will be simple: pedestal sink, salvaged clawfoot tub with shower curtains, a vanity I already own, and maybe just refinish the wood floor instead of tiling.
I'd just really like a normal-sized bath.
And I know that either expanding the current bathroom or adding a second bath would add to the value of the house if I ever had to sell for some reason. Other buyers have been passing on it because of the size of the kitchen & bathroom, but I think I can live with them for a little while 'til it drives me nuts. I just have to be realistic about how much work it's going to be and which will be easier/cheaper.
What do ya'all think?
P.S.- The original kitchen was gigantic. It is now the living room. But that's a whole 'nother project I'm nowhere near ready or funded for...