Discussion Starter
·
#1
·
I am trying to find a safe way that meets code to hook up specific circuits in my home to a backup power source for Solar and Generator Backup. I have about 3 days worth of battery bank in which I would hook up a 2500 Watt Inverter. The batteries are kept trickle charged by a small 40 watt panel just for emergency use. After that was exhausted I have a small 3000 watt Generator that I would hook up to power the home as well as charge the battery bank. Both of these only have 120 Volt power output however.
Here is my current plan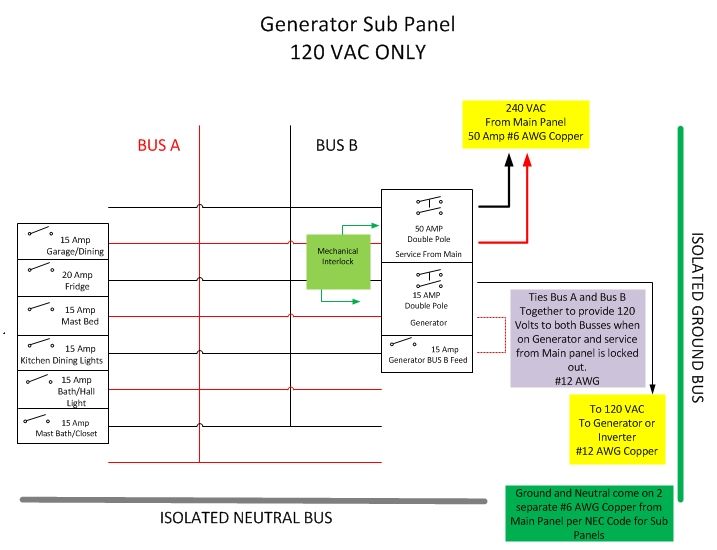 So this plan allows me to keep everything running as a normal 240V sub-panel when connected to the grid. When I switch the breakers over and disconnect the main feed and turn the Generator circuit on, it will feed BUS B directly for the generator, and BUS A will be fed from the other pole of that same breaker via another 15 amp single pole breaker on BUS B. It is using the NEC Approved Interlock from Square D. As per a short conversation with the electrical inspector in my area. I have found it is legal to make a 120 Volt only panel as long as you label it 120 volt only. At first I was just going to tie the other pole into Bus B directly, but found out that if the wire came loose from the Generator breaker and shorted there is no protection except for the 50 amp breaker feeding the panel, so I would have to use 6 Gauge wire and you can't find a 15 amp breaker that holds 6 AWG, so that is the purpose of using a second breaker.
Does this seem like a safe way to do this? Does it look legal. Any comments or suggestions would be appreciated. I want to see what you think before I spend the 40 dollars on an application fee to have the work approved and inspected by the local inspectors office.